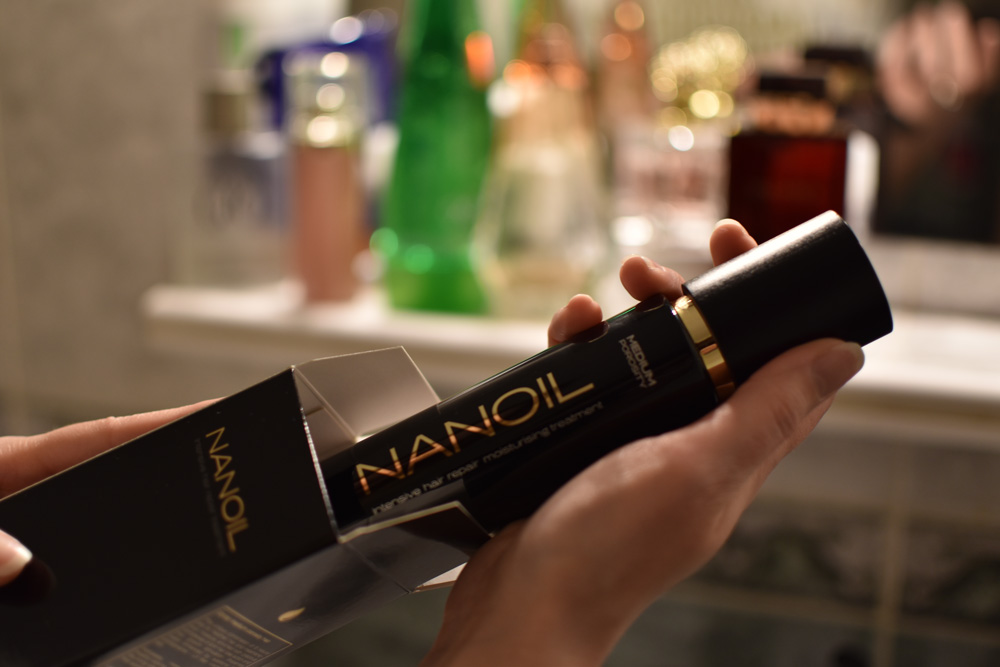 You've been waiting for this Nanoil hair oils review for a very long time. In fact, I will focus on one of them – Nanoil for medium porosity hair that I've been using for 2 weeks now. I will give you extra info about the other two oils in the annotations.
Enjoy reading!
Nanoil for medium porosity hair. Why this one?
I can't remember where exactly I found info about Nanoil hair oils. It must have been on the day when I stumbled on an article about hair porosity on one of my fave blogs. I was eagerly reading about hair structure, its needs and the properties of hair oils. I guess it was when I bumped on Nanoil – the only hair oil that matches hair porosity. We can choose between three possibilities:
· Nanoil for low porosity hair,
· Nanoil for medium porosity hair,
· Nanoil for high porosity hair.
What's the first step?
We identify our type of hair porosity!
I simply observed my hair. I knew my hair problems and compared them with the characteristic of each porosity type. It turned out that my hair – frizzy, prone to splitting and breakage, quite stiff, unnaturally curly and dull – has medium porosity. This hair type needs reinforcement, protection and improvement in the appearance. Can Nanoil hair oil provide it?
Hair porosity can also be defined when we check the ability of our hair to absorb water. You must have read about a popular water glass test. We put a hair in a clean water and observe how quickly it sinks to the bottom. However, this method won't give you reliable results. We should go to a hairdresser who is a hair expert.
Oils ideal for me – Nanoil
I fell in love with Nanoil at first sight. Why? It perfectly fits my needs. Nanoil for medium porosity hair is composed of:
marula seed oil that reinforces natural hydro-lipid barrier and moisturises the hair,
argan oil that repairs and protects from high temperature,
maracuja oil that tames flyaways, reduces frizz and facilitates styling,
coconut oil that restores elasticity and shields hair ends,
jojoba oil that controls the work of sebum glands and heals dandruff,
macadamia nut oil that brings back vitality and softness.
Nanoil for medium porosity hair also contains:
smoothing silk,
strengthening vitamin A,
antioxidant vitamin E,
protective UV filter,
Baicapil for hair growth,
anti hair loss Kerastim.
The product is free from silicones, parabens and alcohols. There's no point in looking for harmful ingredients – Nanoil has none of those. The brand values the quality so we get an ideal, all-natural and lightweight product. In my opinion, it is heaven for hair captured in a tasteful black bottle.
The two other versions also include argan oil, maracuja oil, vitamin E, UV filter ad substances for strength and growth.
Nanoil for low porosity hair also contains: cedar oil, coconut oil, castor oil, babassu oil, monoi oil, shea butter, cupuacu butter, panthenol and vitamin A.
Nanoil for high porosity hair also

includes:

almond oil, evening primrose oil, avocado oil, cottonseed oil, panthenol, keratin, silk and lanolin.
Nanoil for medium porosity hair – my reflections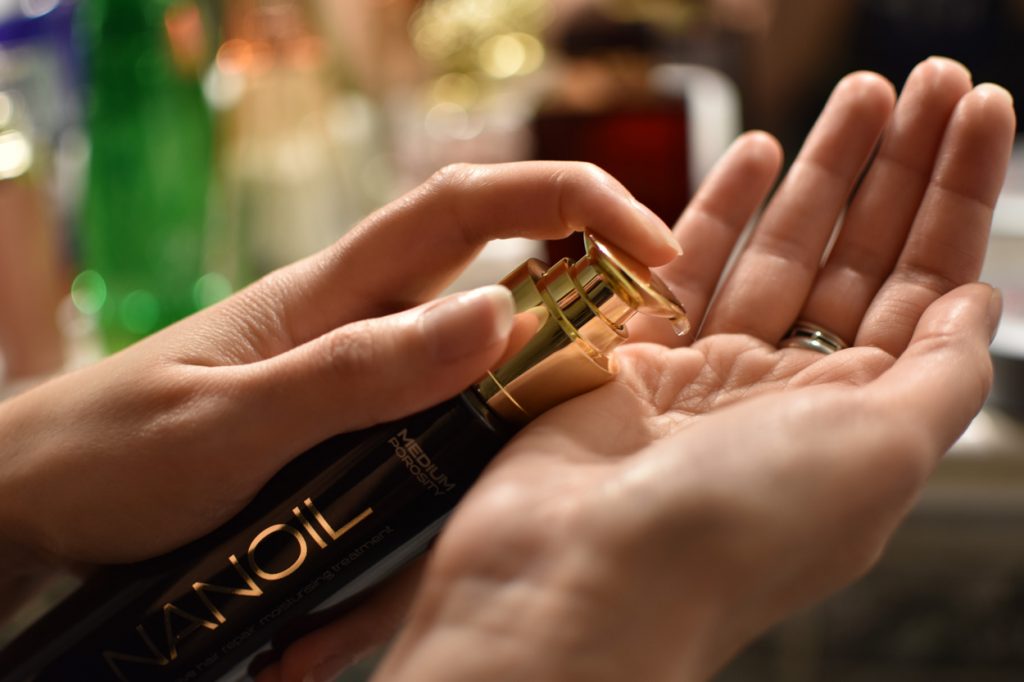 It's easy to post an opinion without even knowing the product but I decided to do it right and tested one version of Nanoil hair oil. Why only one? It is logical because only one version is suitable for the structure of my hair.
I've been using the oil for about two weeks. Although the manufacturer promises the effects after 30 days, I've already noticed a big difference. My hair is less frizzy and static, it's soft to the touch and silky smooth. Beautiful waves fall on my shoulders. I used to have a problem with hair falling out in handfuls. Now, the problem is gone. I'm no longer afraid of using a flat iron because I know that Nanoil hair oil protects from the heat. Styling a hairdo takes less time – hair is manageable and dries more quickly.
The aroma is pleasant, delicate, very fresh and long-lasting.
The consistency doesn't resemble natural oils. Nanoil hair oil is lightweight, instantly absorbed, non-greasy and non-overburdening.
The design deserves a separate paragraph because Nanoil hair oil looks really impressive. It comes in a black narrow and heavy bottle. Although greasy finger marks stay on the bottle, it still looks very elegant. The combination of blackness, golden elements and wooden cap. Beauty!
I must also evaluate the practicality of the bottle. It is very handy. Unfortunately, we won't put it in the hand baggage because of its size and weight. The wide pump is very comfortable. You don't even have to pick up the bottle to apply a suitable amount of the oil.
The price could be lower but I'm aware that we must pay for the quality. The amount I paid for one bottle is not exorbitant. Nanoil is worth buying.
The availability is another good side of Nanoil hair oils. They are sold online. You buy the oil and it arrives at your door after just 2 days.